Garden cabinet with a difference!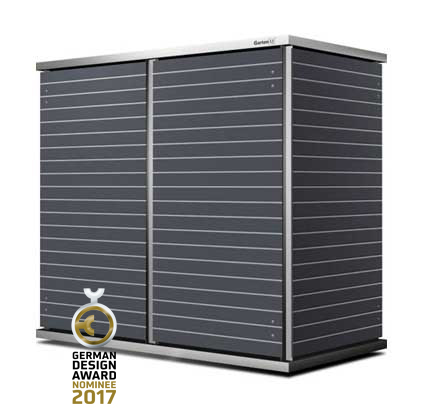 Looking for a weatherproof garden cabinet that doesn't take up much space? With the Garten[Q]Teras, you get more stored in a small footprint than in many large and clunky outdoor cabinets. The patented access from up to three sides, offers the best possible use of the garden cabinet. This feature allows you to keep things tidy without blocking your access to things in the back. You'll love the structure in your modern garden cabinet and be amazed at how much space it provides to store all your garden essentials.
The flexible shelving system of our garden cabinet, allows you to adjust the compartment sizes according to your needs and it holds some thoughtful structural features for you. For example, even the area above a set lawn mower is fully utilized. Its dimensions (158 cm x 80 cm x 158/180 cm W x D x H) also make it suitable as a patio cabinet on roof terraces or larger balconies. This garden cabinet is available in many variants, with and without roof greening option.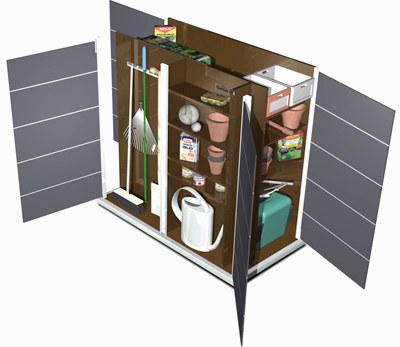 Up to three-sided order:

the garden cabinet Teras

Optimal use of space and maximum tidiness is provided by the multi-sidedness of the Garten[Q]Teras garden cabinet. However, remember to leave enough space (about 70 cm) around the Garten[Q] . The floor plan can be mirrored. So you determine the side on which you can pull bulky things, such as the lawn mower, out of the garden cabinet. Modern garden cabinet Teras can be ideally placed against a wall or garden fence, but also freestanding model defies any weather.

Floor plans and dimensions can be found in our information sheet.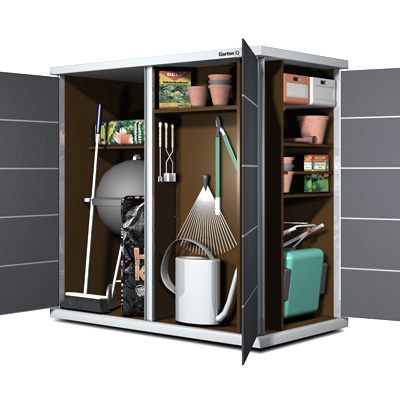 Two-sided solution for

the modern garden cabinet: the garden[Q]Teras-2

There is also the possibility of placing the garden[Q]Teras directly in a corner. In this case, the garden cabinet opens from two sides and is divided inside a little differently. So you have full access to all the equipment.

Also, when storing bulky equipment, such as a large barbecue, Teras-2 variant is the ideal choice. When ordering, please specify on which side your garden cabinet will be placed in a corner.

Detailed information, sizes and compartment divisions can be found in our information sheet.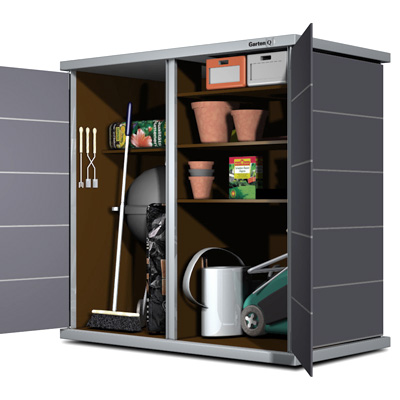 The one-sided garden cabinet solution

: the garden[Q]Teras-1

If you do not have the opportunity to additionally open the Garten[Q] from the side, the variant "one" is suitable. In this case, the garden cabinet opens from the front and can be conveniently placed in a niche or corner.

For more details, please see our information sheet.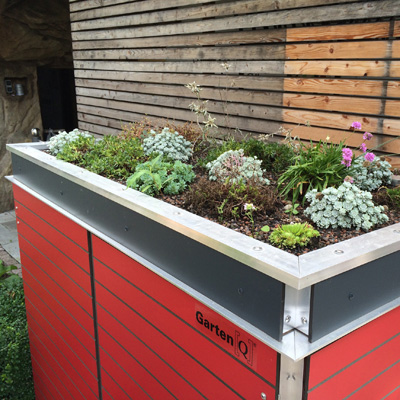 The garden cabinet "Teras"

with green roof module

The garden cabinet Garten[Q]Teras is also available with a green roof module. Nothing more stands in the way of a snail-free herb bed! With a green roof your garden cabinet becomes almost invisible from above and you give back to your garden the green space lost through parking space.

In the case of the roof-covered Garten[Q] , a downpipe runs inside the cabinet and directs excess water to the ground. The depth of the tray is about 9 cm. Alternatively to greening, you are welcome to provide the planter with flower pots, flower boxes or decorative gravel.

With the help of the green roof module, you can also get your garden cabinet to a privacy height of 180 cm. However, the usable cabinet interior height remains the same as the standard model.

The alternative is the SmartDach with a filling height of 2.5 cm. Suitable to be filled with colored decorative gravel, for example.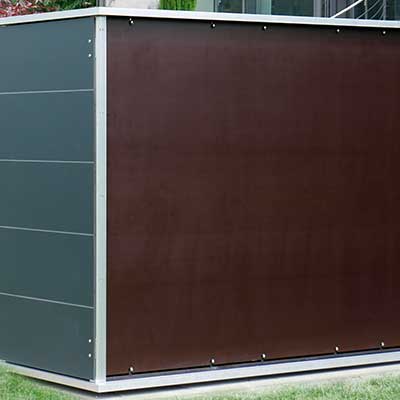 The back wall of the garden cabinet Teras
The back wall consists of a plastic-coated multi-layer wood panel as standard. This is also robust and weather resistant.
However, if you want to set up your Garten[Q]Teras freely, visible from all sides, you can order a Trespa cladding for the back at the same time. This will then have the identical color and striped design as the doors on the other three sides.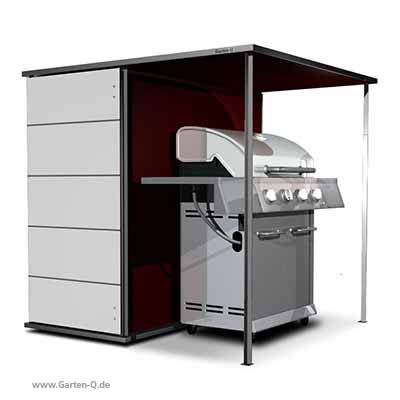 BachShed - the shelter

behind your garden cabinet

If you have the space, you can extend your Garten[Q] with a shelter at the back. The BackShed-2 extends the roof of your Teras by 78 cm or 154 cm to the rear.

Your BackShed can store bulky items such as garden furniture, gas grills and bicycles as well as firewood or building materials. Please note the dimensions and clear insertion widths in the Teras info sheet.

If you wish, you can cover the shelter with a flexibly positionable side wall. This provides even more protection for the contents. The rear or side wall can additionally be covered with a Trespa panel. Color and design automatically corresponds to your chosen Garten[Q].

The Garden[Q] BackShed is an extension of your Garden[Q]. Add it to your shopping cart when ordering. It will be delivered together with your Garten[Q] and is therefore free of shipping costs.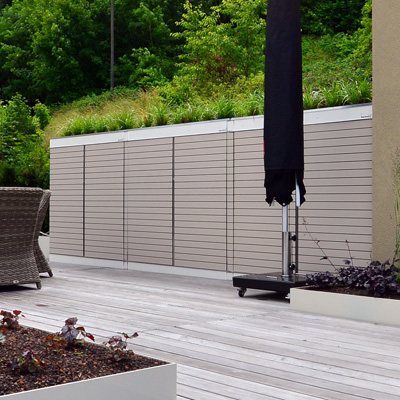 The modular garden cabinet:

combine according to your wishes

An important aspect of the Garten[Q] garden cabinet is that it can be freely combined with other Garten[Q] products.

You can also combine several Garten[Q]Teras with each other or, for example, include the three-door model Garten[Q]Teras-XL.

Your garden cabinet can also be combined with a garden[Q]Trash, our trash can box. This gives you even more storage space and functionality. Let us advise you about the possibilities. Phone: +49 (0)89 - 244 1841-0

For more information, please see our information sheet.

When buying more than one Garten[Q] model you always get 5% discount on everything! Excluding shipping costs.
More information about Teras garden cabinet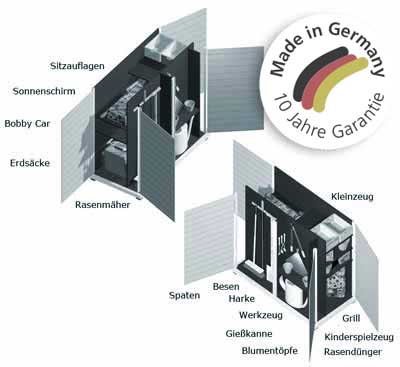 Whether it's a terraced house garden, front garden or roof terrace, the Teras garden cupboard stows all the important utensils and equipment in the smallest of spaces. Seat cushions, lawn mower, barbecue, tools and children's toys are always at hand and neatly stored for you.
Its patented access from several sides and a flexible shelf system allow optimal use of the entire interior. To reach long-handled garden tools, you do not have to climb over the lawn mower first, but have a separate, flat compartment for it. Due to its enormous capacity, it is also called the "smallest garden shed in the world". Just think how much space in a garden shed is lost unused as air space (above things standing around) and for accessibility!
Due to its design, you also do not have to hide the garden cabinet in a corner of the garden, but use it as an attractive design element, which will attract envious glances. >> To the color palette
The Garten[Q] garden cabinet is much less high than others of its kind. It comes with a footprint of 1.58 x 0.80 m and a height between 1.58 and 1.80 m.
Our garden cabinets in the press
VIRTUAL SET UP
Get a first impression!
Why not put a Garten[Q] in your garden on a trial basis? Anyone with an iPhone or iPad is welcome to try it out. Simply scan the QR code and you will see a Garten[Q] standing in front of you through your phone or tablet camera. Just give it a try with the codes above.
Instructions and more 3D garden cabinets can be found here:
>> For Apple iPhone and iPad from iOS 13
If you are already viewing this page on your phone or pad, just click this link:
>> Garden[Q]Teras in "anthracite grey" for Apple iPhone and iPad as of iOS 13
Android devices are currently not supported, but we are working on it.
WHY DOES THE GARDEN CABINET HAVE ITS PRICE?
Teras garden cabinet is built in Germany with high quality materials. Its doors and sides are made of Trespa(HPL) or ESG safety glass. - So you never have to paint the Teras and it has hardly any loss of value even after many years! You get 10 years warranty.
But there are other differentiating features. For example, if you compare with a metal garden cabinet, which can also be durable, but the Teras offers 3 key advantages:
1. the Teras includes an exclusive and flexible shelving system worth about 300 €. For other garden cabinets you may need to purchase additional shelves or shelves.
2. Both the glass and HPL doors/sides are very expensive and account for about €400 extra cost compared to other garden cabinets. However, they also provide the unique design of the product. - In addition, you can choose from over 100 colors and decors to find the design that fits your needs as well. Color and material samples are available. 
3. with its patented access from several sides (European Patent Office, Patent No. 2542740) it succeeds in the structured stowage of all important garden tools and utensils in the smallest space. In this way, you create order and make full use of the entire interior space.
Take value, design and functionality together and you get a special garden cabinet with the Teras that you will enjoy every time you see and use it. It is an attractive design element and does not need to be hidden in a corner of the garden.
By becoming a View-Point for other prospective buyers through the Garden-Q Premium Program, you can be reimbursed a portion of the purchase price with each viewing.
>> Details about the garden cabinet Teras you can find in our information sheet.
GARDEN CABINET PICTURE GALLERY
NUMBERS, DATA AND FACTS
| | |
| --- | --- |
| Footprint | approx. 158 cm x 80 cm (W x D) |
| Total height | 158 cm / 170 cm with green roof module / 180 cm with green roof and plinth |
| Maximum compartment height | approx. 150 cm |
| Doors | 4 pcs. doors made of Trespa Meteon (thickness 8 mm) or ESG safety glass (8 mm) |
| Features | Maintenance-free, vandalism-proof, lightfast (according to manufacturer's specifications) |
| Colors | 5 standard colors and over 100 other colors and decors as well as glass in white |
| Design | Wide or narrow stripe design of outdoor cabinet doors |
| Roof construction | There are 3 possible roof options. See details |
Floor construction
Plastic coated wooden base plate with four height adjustable feet
Back wall
Plastic-coated wooden back panel (dark brown) and Trespa cladding on request.
Substrate
Solid, level substrate. (e.g. concrete slabs)
Interior
Plastic-coated multilayer wood panels. Very robust and durable. Can be reordered at any time.
Lawn mower
Yes (width up to 46 cm, length 110 cm)
Building permit free
Mostly yes (depending on municipality and installation site)
Lockable
With padlock or combination lock. On request also with cylinder lock.
Empty weight
approx. 225 kg
Delivery
Delivery on one-way pallet, completely "pre-assembled" in parts: Roof and floor complete and doors already mounted on frame.
Structure
Easy self-assembly in 4 - 6 hours or on-site assembly service.
Largest kit part
Front frame with two doors 156 cm x 156 cm
Dismantling / conversion / relocation
Problem free possible
Warranty
10 years
Delivery time
Standard color: 4 - 6 weeks, special colors 6 - 8 weeks, decors and metallic 8 - 9 weeks.