Tool shed | Garden shed for daycare center, kindergarten & Co.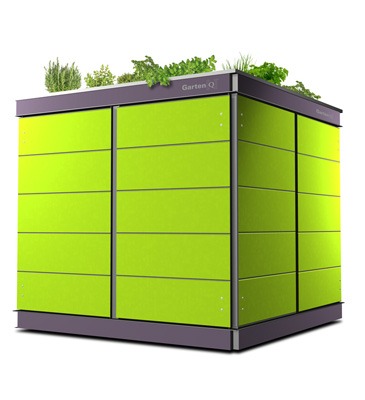 Daycare centers and kindergartens have special requirements for garden sheds or tool sheds. Unlike in the private sector, a large number of toys must be stored efficiently and safely.
Since you do not have to enter a Garten[Q]-garden house, it is particularly suitable for nursery requirements. Access is through doors from different sides, which allows the entire interior of the shed to be used as storage space for playground equipment.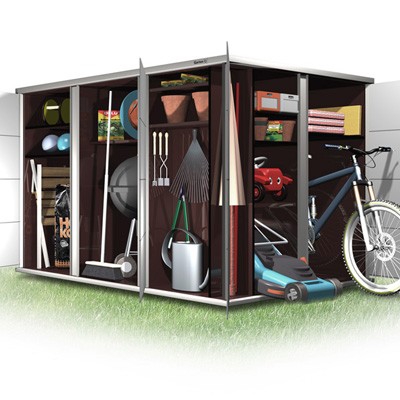 A lot of storage space in a small footprint:

The play equipment storage for kindergartens

The outdoor area belongs to the children. Optimal use of space when storing the play equipment and a maximum of order offer you the garden houses and garden cabinets from Garten[Q]. Access via several sides into individually adjustable shelves allows filling up to the roof.

Educators and teachers love the lived order structure in any Garten[Q] garden house. In addition, most models are completely maintenance-free and vadalism-proof and never need to be painted. That makes the janitor happy.

You will find everything you need for a perfect equipment house for daycare centers, kindergartens or schools in our KITA information brochure or in our Garten[Q] catalog.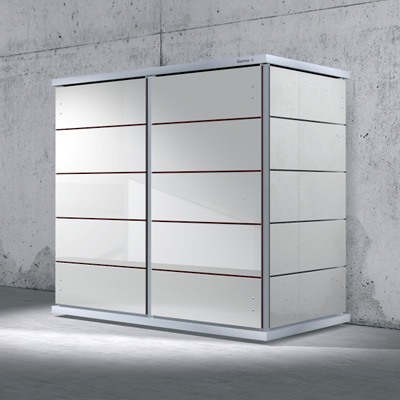 The garden cabinet for daycare centers and kindergartens
If you have limited floor space, our smallest models offer you maximum storage space for children's toys and more. (from 158 x 80 x 158 cm)
Variant-rich there is this Kita garden cabinet with one-sided to three-sided access. On request, you can also get a green roof module.
For more information about the ingenious equipment cabinet Garten[Q]Teras and Teras-XL in all variants, please refer to our product overview. Choose a suitable model and configure the right garden cabinet for your daycare center, kindergarten or school in our store configurator.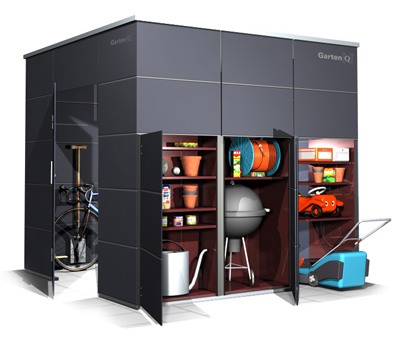 Educators will love it:

The perfect tool shed with additional function

With a footprint of 250 x 250 cm on the Garten[Q]Primus, you not only have a "walk-in space" for bulky toys, but also a large integrated shelving system with direct access from the outside if desired.

Compartments can be individually designed and also labeled if desired. So every Bobby Car and every scooter finds its place.

Thanks to the high-quality materials (HPL, aluminum and stainless steel), this shed will never need to be painted again.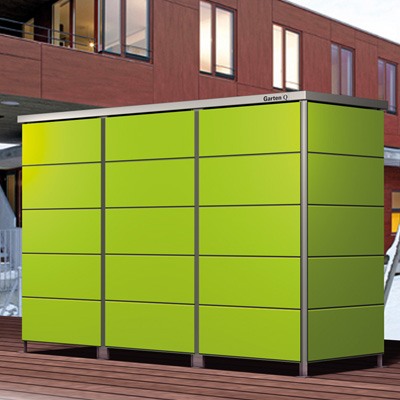 Bulky toys chicly packed:

The shelter garden[Q]Various

Each Garten[Q]Various model (HPL) is also available in a version without interior and without floor construction. The Garden[Q]Various is a barrier-free shelter for storing bulky toys, vehicles or equipment.

These shelters are available in different sizes and designs. With or without green roof and in two different heights. (158 cm or 120 cm)

Everything about the modern shelter Garden[Q]Various you can find here on our website.

All information, sizes and compartment divisions in the Info PDF.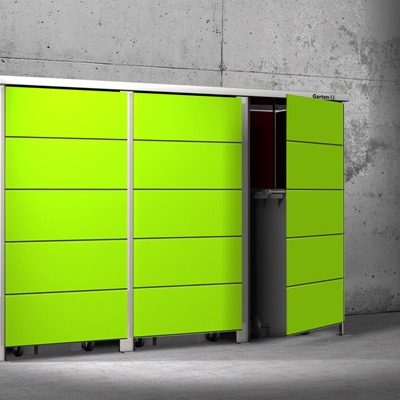 Garbage boxes to modern kindergartens,

schools and day care centers

Matching garbage can boxes modular expandable to modern architecture. This is available here at Garten[Q]. Our garbage boxes convince not only by design and quality, but also by a large plus in functionality. Solutions for any number of garbage cans up to 240 liters.

Even for the unsightly 1,100 liter trash containers at schools and kindergartens, we have chic solutions to "design away".

Feel free to take a closer look at our modern trash boxes: Garden[Q]Trash Series. >> Info-PDF with all you need to know.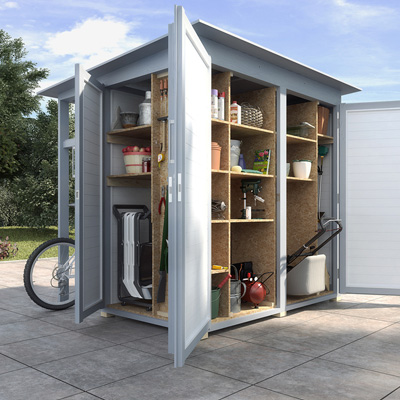 Wooden tool shed for schools:

The garden[Q]Multi

Perfect for those who need to store a lot. The garden[Q]Multi is a wooden garden shed that stores numerous toys and equipment on 2 x 2 x 2 meters.

For example, school gardens have a large number of garden tools. These need to be stored safely and in a space-saving manner, without people tripping over them when they want to reach other garden tools.

As a garden shed or tool shed, the Garten[Q]Multi offers a cost-effective solution with a structured storage system. The Garten[Q] concept with its access from several sides provides considerably more safety here than a conventional garden shed. No one can step on or trip over garden tools, which prevents accidents and facilitates access.

All information about the pent roof garden house Garten[Q]Multi and its variants can be found here on our homepage.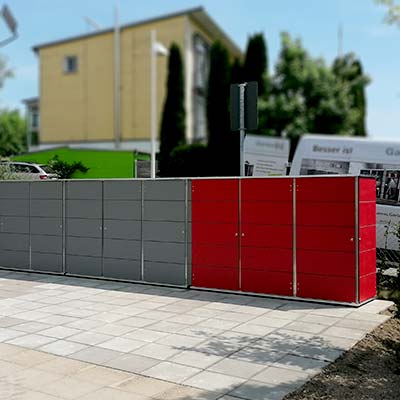 Tool sheds, garden cabinets and shelters for daycare centers,

kindergartens and schools: Combine according to need and floor space

An important aspect of Garten[Q] products (HPL) is free combinability with other Garten[Q] models.

The shelters can also be connected to your Kita garden cabinet. This will give you even more storage space and functionality. Let us advise you about the possibilities.

Phone: +49 (0)89 - 997 561 29
THE GARDEN HOUSE FOR DAYCARE CENTERS, KINDERGARTENS AND SCHOOLS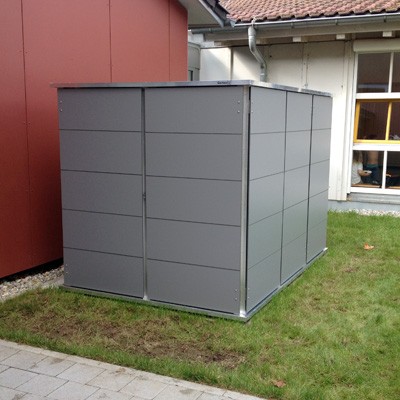 Unlike in a garden shed, no storage space is wasted on walkways. Even the upper area of the play equipment house is fully utilized according to individual needs thanks to the flexibly adjustable shelves. Therefore, the Garten[Q] stores up to four times more than a comparably sized garden shed.
Daycare centers in cities often have a space problem in the outdoor area for storing their toys. There is not enough space for garden sheds or tool sheds. Only small green areas are available for playing and romping. The Garten[Q] helps here these surfaces not to restrict more strongly. The structured interior division also ensures maximum order. Furthermore, you can easily remove all things without access being blocked by things standing in the way.
Almost all models are completely maintenance-free. This means no painting or complicated maintenance of components. Thus, a possibly higher purchase price is relativized over the period of use and brings you a lot of fun and functionality for many years. For large schools or care facilities there is also the possibility to combine the individual products modularly. Please tell us about your needs and we will work out a solution that suits you best!
ADVANTAGES AT A GLANCE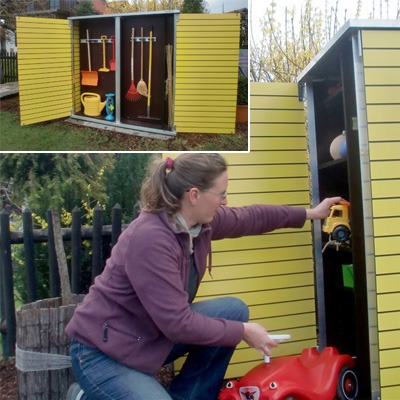 Integrated shelving systems with freely adjustable shelves for optimum use of space
Over 100 colors and decorations or safety glass doors
With and without green roof module
Suitable for all types of playground equipment
Perfect with modern architecture
Completely maintenance free (never paint again)
Vandal-proof
Back or doors as chalkboard possible
Silicone corner protector available on request
Easy assembly and disassembly
10 years warranty

(does not apply to the wooden models)
MATERIALS AND QUALITY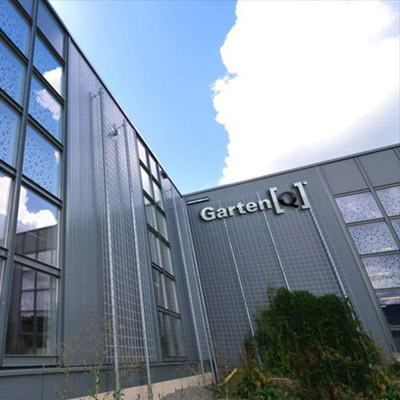 Made in Bavaria" suitable for children
The maintenance-free garden houses and garden cabinet models are manufactured in Bavaria by a special carpenter's workshop. Only high quality and sustainable building materials are used.
The exterior walls are mostly made of "Trespa Meteon". This is an HPL (high pressure laminate) that is ideal for outdoor use. For example, it is easy to clean in case of vandalism. Please read the Trespa Meteon info brochure.
Inside, the garden[Q]s is made of plastic-coated multilayer wood panels. These are characterized by their extraordinary robustness. There it also does not matter if something is put in damp or dirty. The plates are easy to wipe and very stable!
With a Garten[Q] you choose an extremely high quality product and get 10 years warranty. Pictures of Garten[Q] production
FURTHER INFORMATION & DOWNLOADS
The Kita equipment house flyer
Learn more about the possibilities with Garten[Q] especially for daycare centers, kindergartens and schools to store equipment and toys in the outdoor area. We would also be happy to send you the printed brochure by mail.
>> Download Kita-Flyer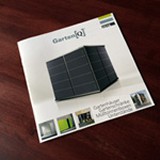 Garten[Q] Catalog
Get an overview of our offer. Garden houses, garden cabinets, shelters, bicycle garages, garbage can boxes.
↵ Garten[Q] Catalog (5MB)
Youtube videos
Suitable models for every need
5 standard colors, 2 different stripe designs and over 100 other colors and decorations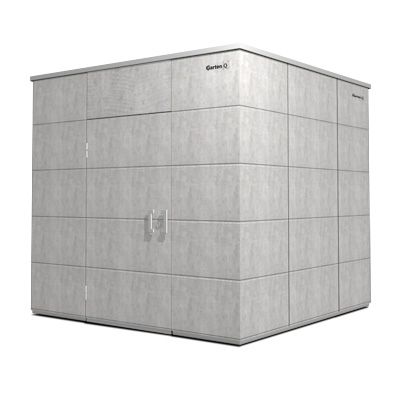 HPL wood decor
250 x 250 x 250 cm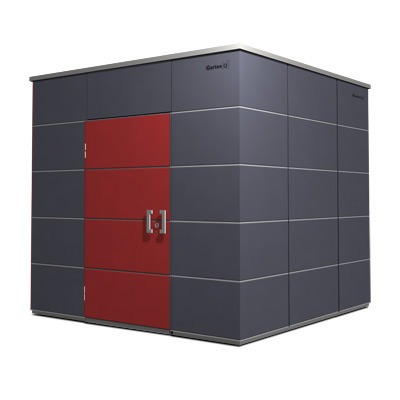 Anthracite Grey with Carmine Red
250 x 250 x250 cm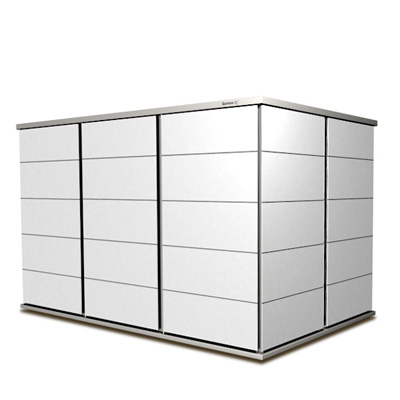 Pure white with wide stripes
234 x 158 x 158 cm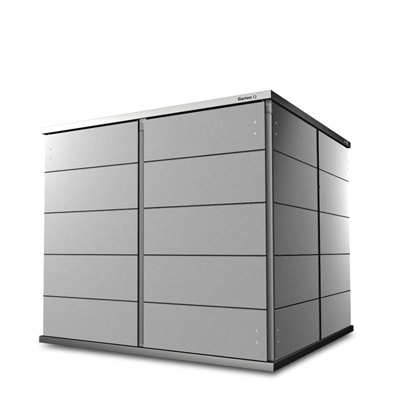 Mid Grey
158 x 158 x 158 cm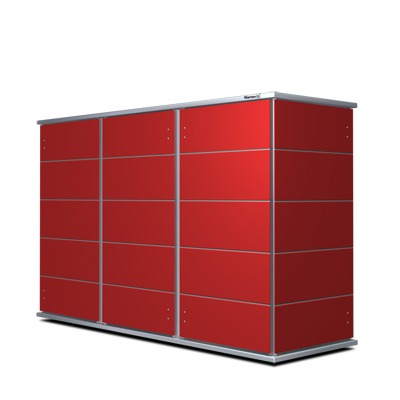 Carmine Red/h4>
234 x 80 x 158 cm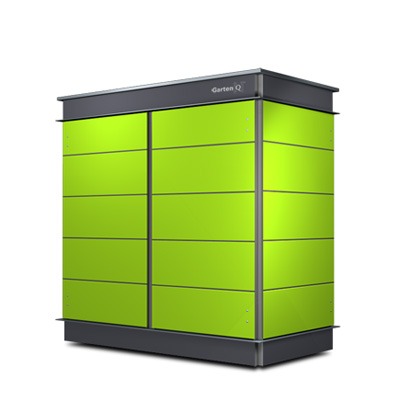 With green roof module
158 x 80 x 158 cm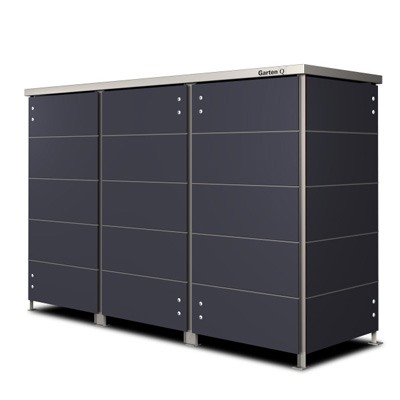 Garbage can boxes
234 x 80 x 158 cm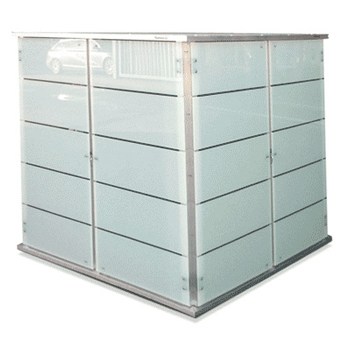 GLASS DOORS
Safety glass
White / Stripe wide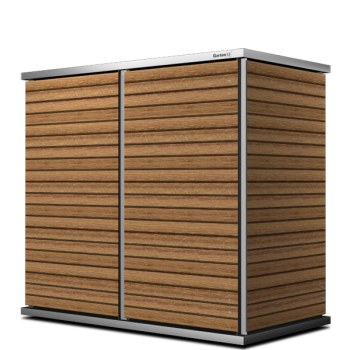 SPECIAL DECOR WOOD
Country Wood NW13
Stripes narrow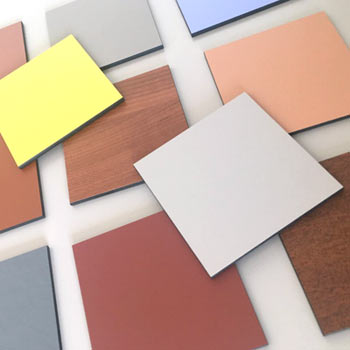 FURTHER COLORS
Color palette