Garden house, garden cabinet
and more - but different!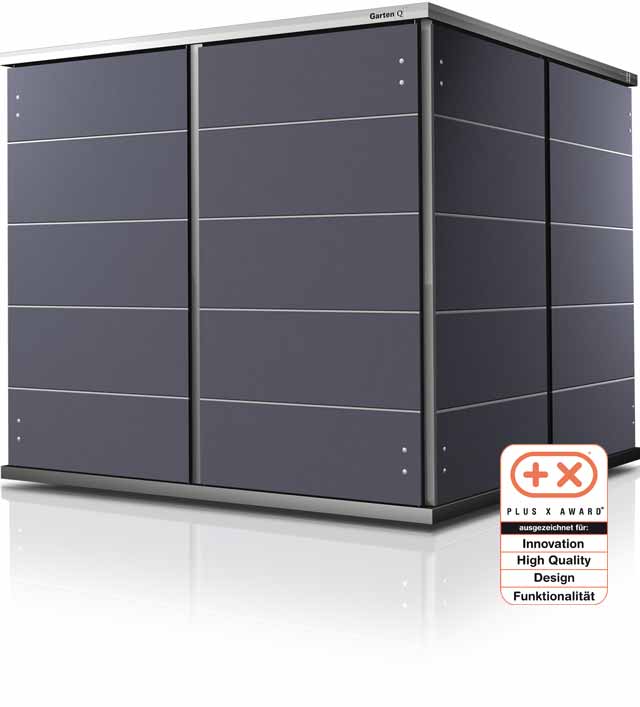 Welcome to Garten[Q], the specialist for intelligent storage systems in modern design. Here you can learn more about the garden house of the future, garden cabinets, garbage boxes with parcel box and individually configurable shelters. You can visit our products at Garten[Q]-Center in Munich Brunnthal!
Garden house modern and functional
What makes a garden house modern? In addition to the design, the basic principle of our products forms an access options through several sides. Combined with a garden closet-like interior division, you can store more things in less space. Perfect for all order-loving people and households with a small garden or roof terrace.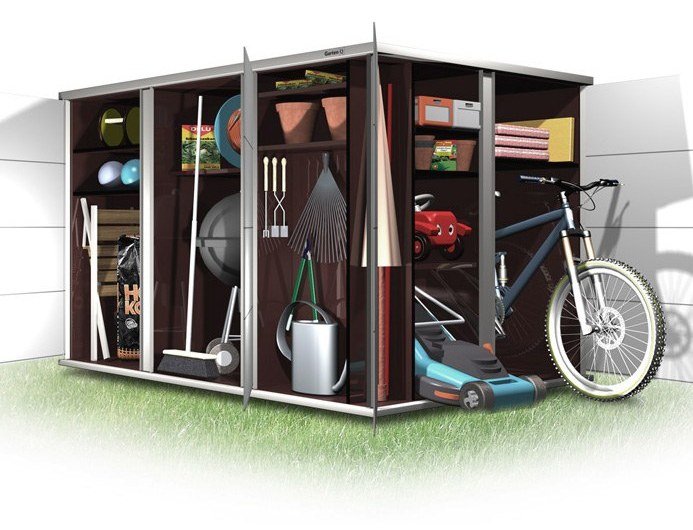 The principle of our garden cabinets:

more storage space in a small space

Structured use of space is rather a rarity even in modern garden houses. Things are quickly placed in the entrance area, which makes access difficult and much air space of the garden house remains unused.

Our garden shed or garden cabinet can be filled up to the ceiling and allows orderly access to all stored things. In addition, no space is lost for walk-in, which allows the complete interior to be used as storage space.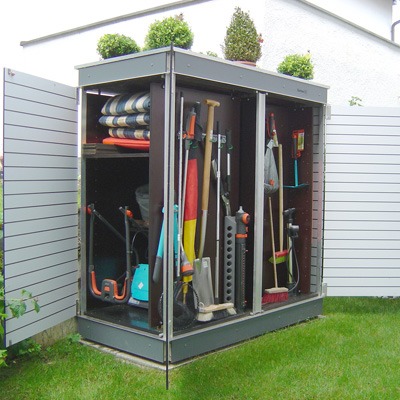 Chic storage in the garden -

garden houses & garden cabinets

In addition to modern design, each of our products has a special functional feature that makes it unique and an innovation leader in its field. We also apply the principle of multi-sided access for optimal use of space to all products.

Our modern garden cabinet TERAS thus manages to neatly store a lawn mower, long-handled garden tools, seat cushions, barbecue, children's toys, small garden tools and much more on a footprint of only 158 x 80 x 158 (WxDxH). The smarter storage in the garden.

Our TRASH garbage can house offers the possibility to hang garbage bags (e.g. yellow sack), which can then be filled via a lateral insertion. Of course, you can then also optimally store the full bags in our Trash. External bag holders and mountains of yellow bags are thus history, you get more space for more important things in life again!

Would you like to have a parcel box in which the parcel service can easily place your parcels? You can convert one module of your [Q]Trash box into a parcel box. - As you can see, the Garden [Q]Trash is more than just a trash can!

SHARE privacy screen is the ideal terrace divider for both neighbors. You share not only the cost, but also the integrated storage space. It offers more compartment depth for setting things than it takes up on your own property. Impossible? Then check out our product description!

You can find more inspiring and interesting pictures about garden houses, garden cabinets, shelters and garbage boxes in our >> customer gallery.
Modular and combinable
Our products can be combined. For example, you can connect a garden cabinet TERAS or a bicycle garage Various to the TRASH garbage can house. In this way, you form a round solution for your individual situation, both functionally and visually.
Tell us about your needs and we will advise you on creating the best storage for your garden!
Modern design in weatherproof HPL or wood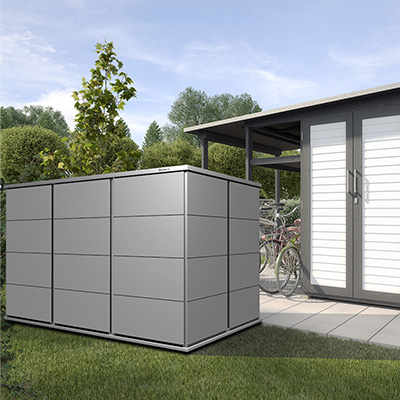 Garden shed or garden cabinet

made of weatherproof HPL available in more than 100 colors and decors or made of wood

A fundamental decision when buying a garden shed / garden cabinet is that of "maintenance free".

Basically, Garten[Q] models are available in maintenance-free HPL materials or wood. The weatherproof models have doors made of Trespa HPL panels. These are particularly weather resistant, easy to clean and include a 10-year lightfastness guarantee, which is a unique selling point of Trespa-HPL. But Trespa is also better than other HPL suppliers with other product properties. Therefore, despite the higher price, we chose Trespa after numerous tests.

The interior (incl. back panel) is made of robust multilayer wood panels with plastic coating. Metal parts are made of aluminum or stainless steel.

Here you will find an overview of all Trespa colors and options.

Through the licensee WEKA-Holzbau we offer modern tool sheds and garden sheds with monopitch roof made of wood. They are available in anthracite, gray, red or natural (unpainted). We recommend WEKA construction service for the construction.
10 years warranty / Quality Made in Germany
All TrespaGarten[Q] products are manufactured in a special carpenter's workshop in Wiesenbronn (near Würzburg). For the production of your Garten[Q] garden house handwork is complemented with the latest machine technology (e.g. laser technology) and an incomparable quality product "Made in Germany" is created. A 10-year warranty guarantees you a product that will give you many years of pleasure. If you are interested, you are welcome to visit the Garten[Q] production. Please contact us and arrange a viewing appointment with us.
We give a 5-year warranty on all pure wood products manufactured by our licensee WEKA Holzbau GmbH, Neubrandenburg. Please refer to the warranty conditions for Trespa and wood products. WEKA is Germany's leading supplier of wooden garden houses.
The principle and design of Garten[Q] garden houses and garden cabinets are protected by patent. In particular, the access from more than one side in the outdoor area, may not be copied without an appropriate license. The development of the idea and the high-quality conversion, represent for us a high value. Therefore, violations by the patent holders will be pursued legally.

All-round carefree: assembly service on request even with foundation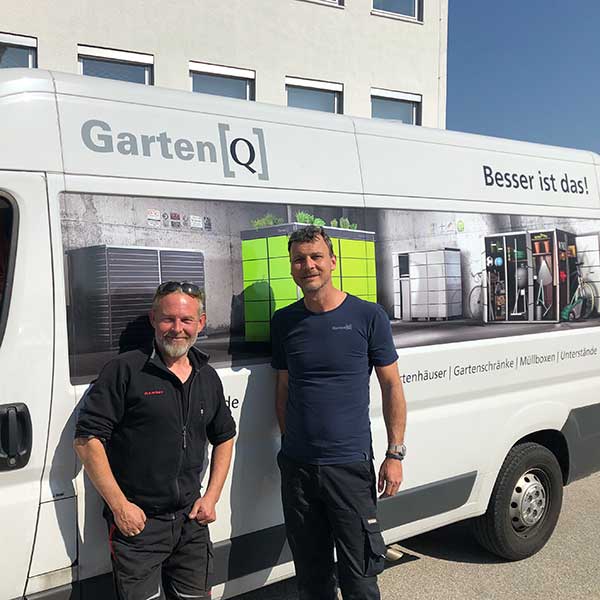 Make it easy for yourself,

use the Garten[Q] :: assembly service!

The fastest and easiest way to use your Garten[Q] without much effort is our installation service at your site.

In the store configurator under "Service options", simply select the set-up service with or without screw foundation, you will be contacted when your Garten[Q] is foreseeably ready and MTD's set-up specialists will arrange a delivery and set-up date with you. 

If the longed-for day has finally arrived, the construction service will bring your brand-new Garten[Q] directly to you and also immediately assemble it completely ready. If you do not have a foundation, it is possible that the construction service brings screw foundations and sets them into the ground on site. However, please note the service obligations! After cleaning and thorough inspection, you can also immediately begin to put away.

MTD's Garten[Q]-Aufbauservice team is on the road for us throughout Germany, Austria and Switzerland and is already looking forward to your order. For questions and special set-up and location situations, please contact us directly.