Garden House Revolution! - No more clutter!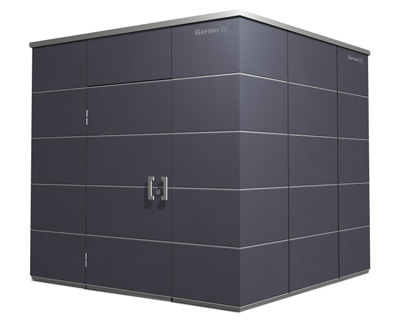 The garden[Q]Primus is a special 
Garden house made of HPL. It has a typical walk-in area and, if desired, side access to interior shelving systems from the outside. So you store bulky equipment such as bicycles and gas grill in the large space and use the shelving systems integrated in the garden house from the inside and outside to get direct access to tools, children's toys and, for example, your lawn mower. The size can be flexibly adapted to your needs.
Its components are weather resistant and particularly suitable for outdoor use. You can choose the HPL in almost any colors and decors and get an individual solution to fit your needs. The Primus never needs painting and even after many years still looks like the first day!  
The garden house
The idea of the garden house Primus is quickly described. With this HPL garden house, you not only have a walk-in space for bulky and large equipment, but also direct access through additional doors to a shelving system in the house. Various compartments you use from the outside and inside.
Stow bicycles, garden furniture, gas grill and other bulky equipment in the walk-in space. Your lawn mower, however, you push through a side door at the back, from the outside directly into the garden shed.
This means that you do not have to move the other equipment aside to mow the lawn. In the basic version, you get a modern, maintenance-free garden shed even without the side shelf systems. Configure according to your needs.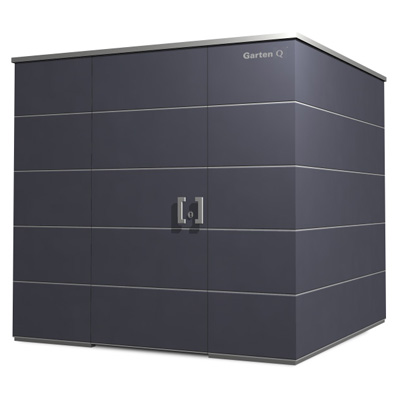 The modern HPL high

quality garden house from Trespa

In the standard version, the garden[Q]Primus is an extremely high-quality garden shed made of maintenance-free HPL-Trespa.

In the footprint of 244 cm x 244 cm you can use the entire interior. A large door allows access. The narrow flat roof gives your modern garden house a unique look.

The exclusive quality garden house from the house Garten[Q] provides you with a garden house of the highest quality and unique appearance. We give you 10 years warranty.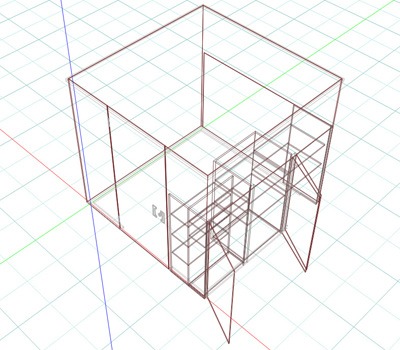 The ingenious extension:

The integrated shelf insert

If you also use your garden shed to store your garden tools, tools and small parts, you should consider the Q-extension.

Three doors on one side of your garden shed gives you direct access to your equipment. The sophisticated design not only provides shelf storage space from the outside, but also allows you to store items inside the garden shed in an organized manner. This makes gardening fun!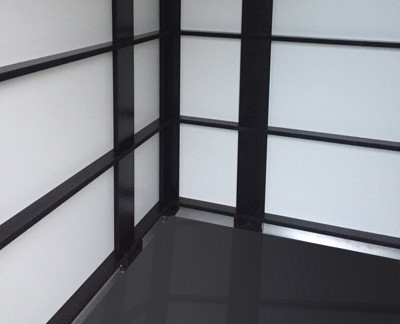 The sturdy garden shed floor
In the standard version, the garden house Primus has no base plate. So you can slide in or store bicycles or other bulky things without barriers.
On request, you can get a robust floor made of a 4 cm thick "Film Film Plate". This is known from trailer construction or also as a floor plate for trucks.
We also integrate windows on request. Please ask for an offer and let us advise you. Phone +49/89/339 8124-80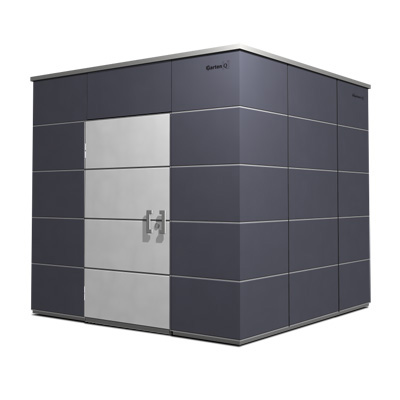 Give the garden shed door its own color
Those who wish can assign their own color to the main door. For example, the garden house in anthracite RAL 7016 can get a gray or white door.
5 standard colors are available for selection. Over 100 other colors and decors are available on request.
The garden house door can also extend over the entire height to under the roof.
MORE INFORMATION ABOUT THE GARDEN HOUSE PRIMUS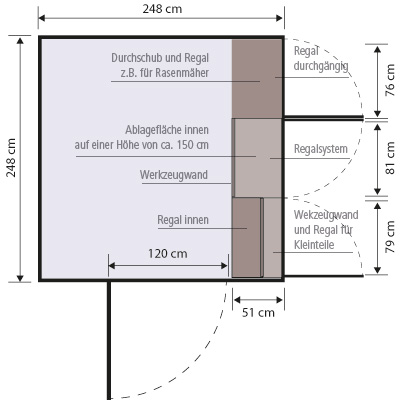 Garden house with great functionality
The first "walk-in" garden shed from Garten[Q] is simply unbeatable in its quality and functionality. Especially with the shelf system extension you get the usual Garten[Q]-fun of daily gardening. Order, structure and direct access to the most important equipment, tools, children's toys and small parts are guaranteed. The exact footprint (foundation size) is 244 x 244 cm.
The garden house is made of high quality HPL-Trespa panels. Never paint again! No fading of the paint! 10 years warranty!
GARDEN HOUSE PRIMUS AT A GLANCE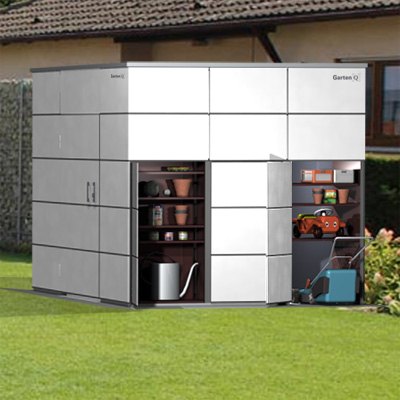 Here are a few special garden house features at a glance:
High quality maintenance free garden house made of HPL Trespa
On request an integrated shelving system with direct access from the outside
Over 100 colors and decorations
With or without floor construction
Modern flat roof
Perfect with modern architecture
Assembly service
10 years warranty
NUMBERS, DATA AND FACTS
| | |
| --- | --- |
| Footprint | approx. 244 cm x 125 / 244 cm (W x D) |
| Total height | approx. 250 cm |
| Maximum room height | ca. 238 cm |
| Doors / Walls | Made of Trespa Meteon (thickness 8 mm) |
| Features | Maintenance-free, vandalism-proof, lightfast (according to manufacturer's specifications) |
| Colors | 5 standard colors and over 100 additional colors and decors |
| Design | Wide stripe design |
| Roof construction | Flat roof construction covered with special UV roofing film. Extremely low noise during rain. Water drainage takes place via drip edges on all sides |
| Floor construction | No floor as standard. On request fixed bottom plate. |
| Back wall | HPL-Trespa cladding |
| Substrate | Solid, level substrate. (e.g. concrete slabs) |
| Interior | Plastic-coated multilayer wood panels. Very sturdy and durable. |
| Building permit free | Depending on the municipality and installation site |
| Lockable | Yes |
| Delivery | Together with construction team |
| Structure | Currently no self assembly possible. |
| Dismantling / Reconstruction / Relocation | Possible |
| Warranty | 10 years |
| Delivery time | Standard color approx. 4 - 6 weeks, special colors approx. 6 - 8 weeks, decors and metallic approx. 8 - 10 weeks |

MATERIALS AND QUALITY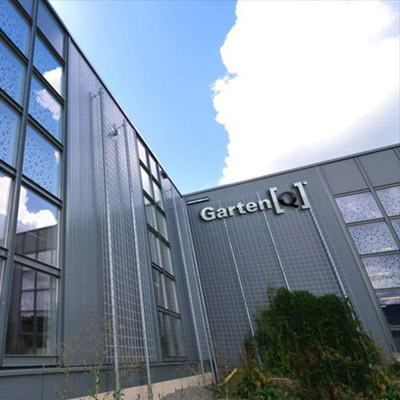 High quality garden house made of HPL or metal
Garden house Primus is made in Bavaria by our special carpentry. It is made exclusively of the highest quality, maintenance-free materials. Built by hand from Trespa (HPL), metal (stainless steel and aluminum) and plastic-coated multi-layer wood panels.
The exterior walls are mostly made of "Trespa Meteon". This is an HPL (high pressure laminate) that is ideal for outdoor use. Please read: >> the Trespa Meteon info brochure
Inside, the garden house is made of plastic-coated screen-printed panels. These are characterized by their extraordinary robustness. There it also does not matter if something is put wet or dirty inside. The plates are easy to wipe and very stable! Therefore, our garden house is completely weatherproof.
With a Garten[Q] you choose an extremely high quality product and get 10 years warranty.
FURTHER INFORMATION & DOWNLOADS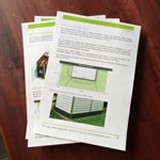 The info sheet
Learn everything about this Garten[Q] model. We have packed all the floor plans, variants and everything you need to know into this PDF. You can save it or print it out conveniently.
↵ Download the Info PDF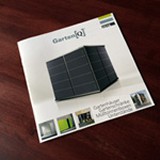 Garten[Q] Catalog
Get an overview of our offer. Garden houses, garden cabinets, shelters, bicycle garages, garbage can boxes.
↵ Garten[Q] Catalog (5MB)