Customer testimonials and press articles about the Garten[Q]
Robert Mayr
Mechanical Engineering Ing. Ingolstadt
"I always look very carefully at what I buy ... even went all the way to Munich ... what can I say? Materials, workmanship, detailed planning, appearance ... all very good!"
"Never a garden shed again! We love our gardenQ ;-)"
Margartete Wehner
Linz / Austria
"We have thought long and hard! We ordered and now a perfect solution! Really a great thing this gardenQ. Can we only recommend!"
Martin Huber
Sales employee
Bremen
"No question, we gladly recommend the GartenQ. Idea and implementation simply brilliant! Certainly not cheap, but we have also received nothing cheap. We enjoy gardening much more now! Thumbs up!"

"No room in the shed and the garage is already overflowing? The solution: a garden cabinet from Garten[Q] Co ..." Issue 07/2019 >> more

"... Trash cans can't be argued away - but they can certainly be designed away. ..." Aug 01 / 2019 >> more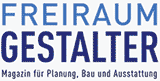 "The Garden[Q]Trash is a versatile garbage can house ... And can be easily combined with the other Garten[Q] models according to individual needs." Issue 01/2019 >> more

"Practical: Always the question : where should the parcel carrier put the ordered books? The trash box is equipped with mailbox and cardboard box." Aug 01 / 2019 >> more

"The Garten[Q]Kompakt tool shed stands out not only because of its modern look. It is not walk-in, so the full space is available for the things to be stored and this is used up to the roof thanks to the integrated, well-structured shelving system with individually adjustable shelves. Issue 01 / 2019" >> more

"Now that we are finally moving into our cottage, my husband and I are thinking about how and where we can store the garden tools and other important utensils for gardening in the future. The Garten[Q] seems to be a model solution for this. This alternative to the garden shed is comparable to a spacious closet. The kicker is that this storage solution is said to be maintenance-free." >> more

"Space miracle - The designer garden house is not walk-in, but offers plenty of storage space." ...
Issue 06/2012

"Design combined with functionality." ...
The metropolitan magazine for architecture, modern living and lifestyle.
Issue 01/2014

Garten + Haus writes about the GartenQ "Everyone knows the problem with cluttered garden sheds, when rakes and hedge trimmers fall against you when you get out the lawn mower, or bicycles block access to the flower pots. More order for your garden tools is now available at Garten[Q]." ...

Issue 04/2012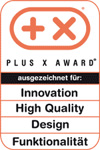 Garten[Q] is honored with the Plus X Award. They receive four seals of approval for best design, functionality, innovation and quality. In addition, the garden[Q]pure is best garden product 2013

"The Garten[Q] is probably the unbeatable alternative to the tool shed. It combines top design with much more functionality than a tool shed ... Awarded the Inhortas Seal of Value for land use, value, simplicity/maintenance, eco-friendliness, design ... "
The Inhortas value seal for the Garten[Q].