Shelter - The chic system for simply everything!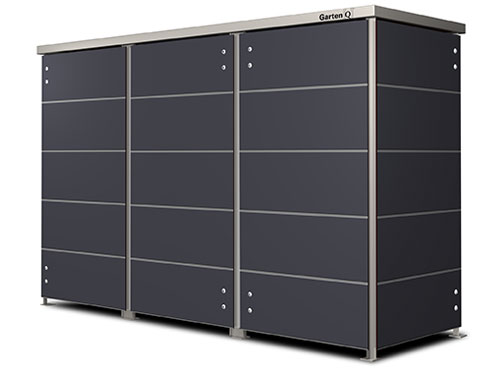 The Garden[Q]Various shelter models simply store everything! They serve as a bicycle garage, wood shelter, gas grill shelter or as an enclosure for your pool and garden equipment or for storing your garden furniture. The "Various" shelter is available in 4 different sizes and two different heights. Available in over 100 colors and decors and of course maintenance free.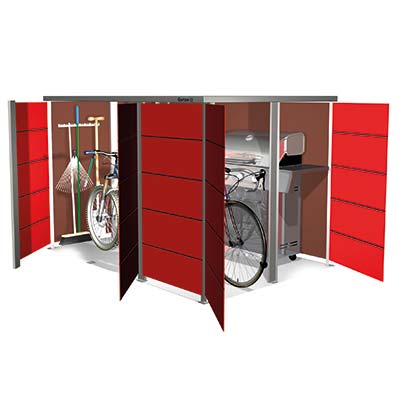 Variable shelters for a wide variety of applications.
Pool equipment, garden equipment and bulky equipment can be easily stored in the Garden[Q]Various shelter. It consists of aluminum frames, which are screwed directly onto your slab decking. There are doors on at least three sides. You decide on which sides there should be fixed walls. All materials are completely maintenance free. You will never have to paint again.
The typical Garten[Q] design is again available with either a wide or narrow striped look. Either way, there is no better way to hide your equipment, furniture, pool technology, bicycles and everything else.
The Garten[Q]Various series offers many possibilities. We would also be happy to advise you on your solution: Phone: +49 (0)89 - 244 1841-0
For further information please refer to the info sheet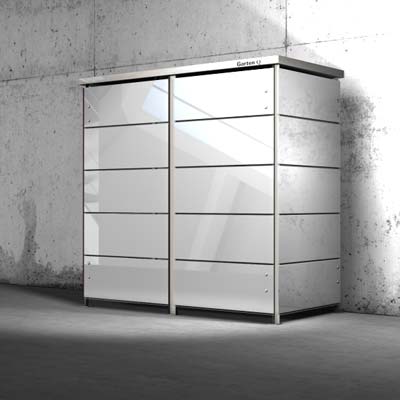 The small shelter: pool technical house or wooden shelter.
Stow bulky equipment or stow pool and garden equipment in your Various-2 shelter. Size: 158 cm wide, 80 cm deep and 158 or 120 cm high.
By default, the Various-2 has two doors on the front and a wooden back wall. On the narrow sides you can use wooden walls or choose doors and a barrier-free slide-in from the side. Choose the ideal solution for you from various options in our store.
You can find all information and possibilities in our >> Info-PDF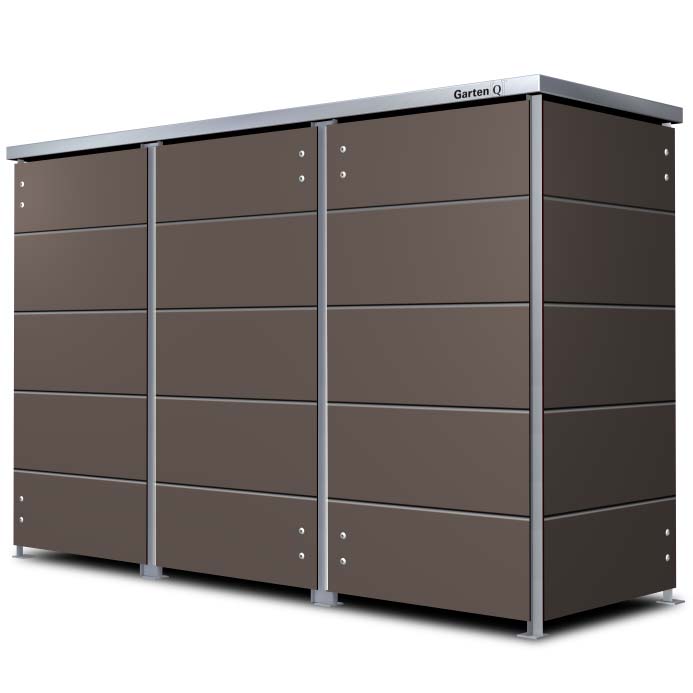 Enclosure long,

narrow and beautiful

The three module stows equipment over two meters. The Various-3 has a size of: 234 cm wide, 80 cm deep and 158 cm or 120 cm high.
Beer benches, 2 bicycles, garden loungers and much more are chicly stowed.
By default, the enclosure has 3 doors on the front. But you can also have access from the narrow sides. Which doors should be used and whether the back wall should also be openable, you decide during the
configuration
in our store.
If you have any questions, do not hesitate to contact us. Even a sketch that you send to us can be helpful in the consultation.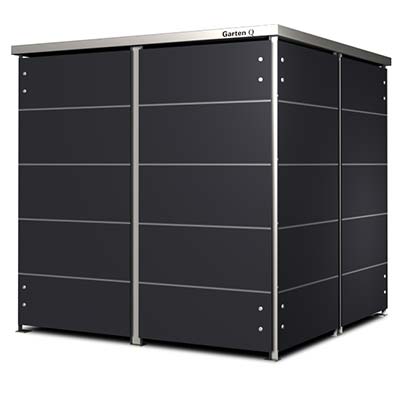 The modern enclosure as a cube
A cube-shaped enclosure with an edge length of 158 cm is suitable for many things. The Various-4 is a real design element and stores pool equipment, garbage cans, garden furniture and firewood. You decide which of the four double doors you want to open on which sides.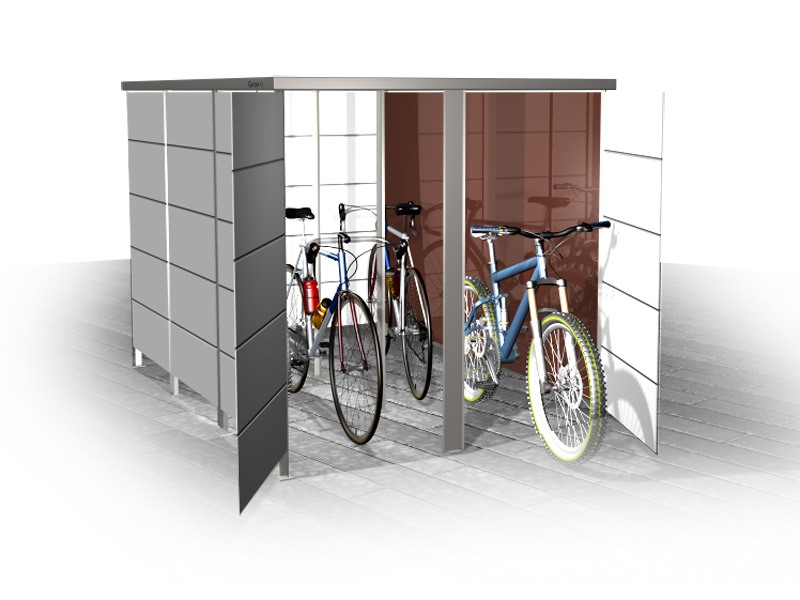 The modern bicycle garage: The garden[Q]Various-XL / XXL
Conveniently store up to four bikes on: 234 cm width, 158 cm depth and 158 cm or 120 cm height. Garden[Q]Various-XL is the modern bicycle garage. It is best placed against a wall or fence. Alternatively, it can be free-standing, in which case you should also cover the back with Trespa.
It would be perfect if you could slide the bikes in from the two short sides. This makes a bike garage fun! Nothing to hang up or maneuver around, just open the door and pull out.
NEW: The Garden[Q]Various-XXL for up to 6 bikes or large bulky items. Size: 234 cm long, 234 cm wide and 158 cm or 120 cm high.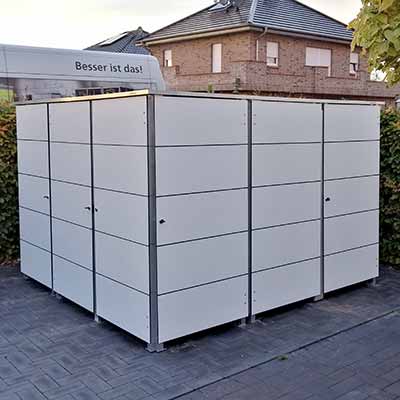 The great e-bike garage: The garden[Q]Various-XXL
Conveniently store up to six bikes or 3 wide e-bikes on 234 cm width, 234 cm depth and 158 cm or 120 cm height. The garden[Q]Various-XXL is a large e-bike garage or suitable for many bulky things. However, not as big and powerful as a garden shed.
It would be perfect if you could slide the bikes in from two opposite sides. 3 wide electric bikes find space behind the 3 doors on a sete. This makes a bike garage fun! Nothing to hang up or move around, just open the door and pull out.
The Various is also suitable for electric bikes. The closed walls are ideal for mounting sockets or a wall box. A versatile electric bike garage in which you can, with the help of a partition also additionally store trash cans or firewood. Perfect for any front garden.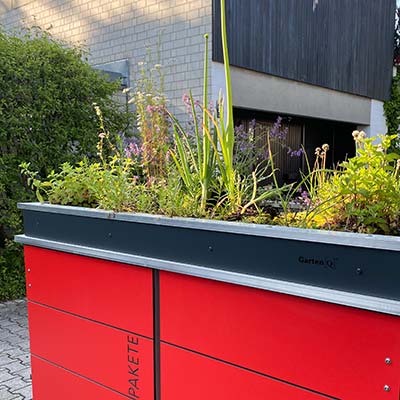 The shelter "Various"

with planting roof

Garden[Q]Various shelter is also available with green roof module (except Various-M, -L, XL, XXL). Why not make yourself a snail-free herb bed? With a green roof your shelter becomes almost invisible from above and you give back to your garden the green space lost through parking space.

In the green roof shelter, a downpipe runs inside the shelter and directs excess water to the ground. The planting depth of the tub is about 8 cm. In total, your Various increases by 12 cm to 132 / 170 cm.

For the planter you can choose your own color. Of course, a single color solution is also selectable. Try different color combinations in our configurator.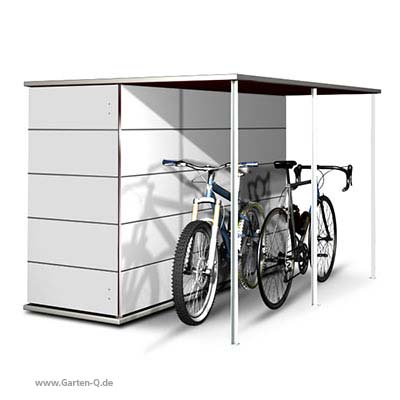 Roof extension as additional shelter
Those who have the space can extend their Garten[Q] with a shelter at the back. The "BackShed" extends the roof by 78 cm or 154 cm to the rear.
Your "BackShed" stores bulky things like garden furniture, gas grill and is a great bike shelter. You can also conveniently store firewood or building materials.
For more information, please refer to the info sheet.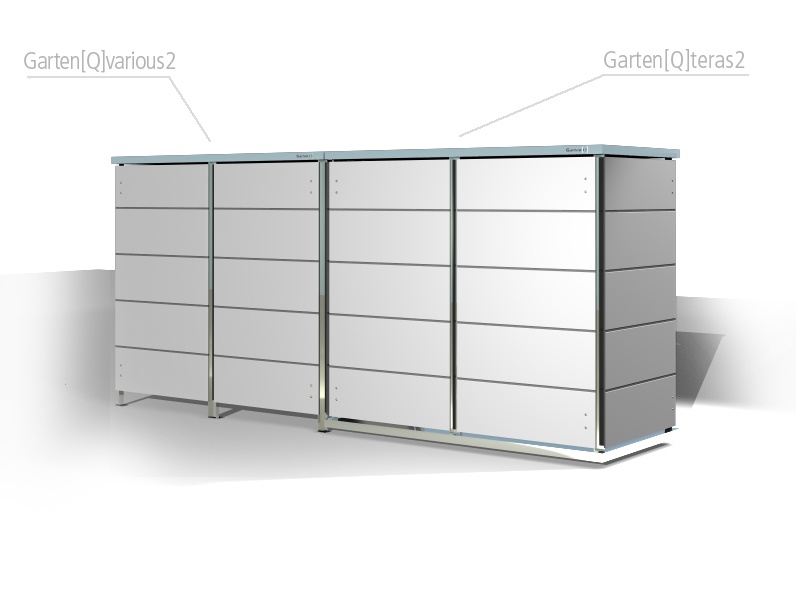 The modular enclosure:

Combine according to your wishes

An important aspect of the Garten[Q] shelter Various is the free combinability with other Garten[Q] products.

So you can also combine several enclosures Garten[Q]Various with each other. Or also place the Various-3 with a Garten[Q]Teras-XL back to back.

OTHER: For all Various models there is a shelf insert. It is integrated in the width of a front door and is equipped with 3 shelves. Let us advise you about the possibilities. Phone: +49 (0)89 - 244 1841-0
For more information, please see the info sheet

If you buy more than one Garten[Q] model, you will receive a 5% discount on everything! Shipping costs are excluded.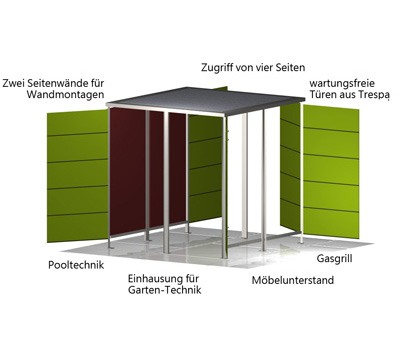 Flexible enclosure

for your needs

The Garten[Q]Various is the modular, variable shelter for outdoor storage. No matter what you want to store or enclose, the ingenious frame system of the Garten[Q]Various offers a solution.

Combine garden shed, garden cabinet and shelter in a neat and visually appealing way that is second to none.

Use doors on different sides to remove your set devices easily and conveniently. Place walls to hang or attach things. Integrate a shelving system for things that should not be on the floor. Create a solution gladly also in a consultation with us.
THE SHELTER VARIOUS AT A GLANCE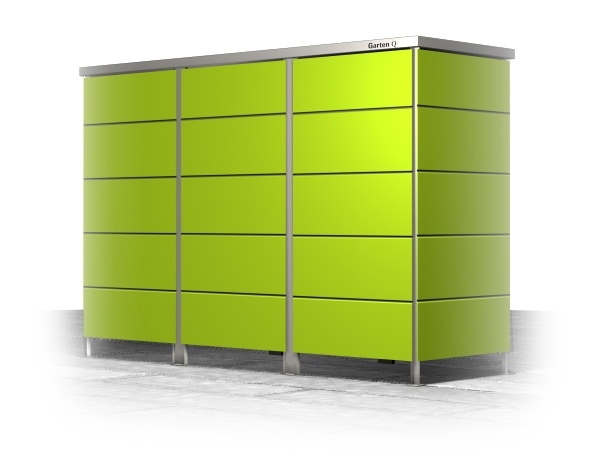 Here are a few special shelter features at a glance:
Access via one to three pages
Variable applicable
Maintenance-free (without painting)
Use of robust walls for mounting
Lockable (on request also with cylinder locks)
Flat roof, smart roof or green roof module
Modular expandable
over 100 colors and decorations
Many variants
NUMBERS, DATA AND FACTS
| | |
| --- | --- |
| Footprint | 6 different sizes available |
| Total height | Selectable between 120 cm, 140 cm, 158 cm and 188 cm |
| Doors | Doors made of Trespa Meteon (HPL, thickness 8 mm) or ESG safety glass (8 mm) |
| Features | Maintenance-free, vandalism-proof, lightfast (according to manufacturer's specifications) |
| Colors | 5 standard colors and over 100 other colors wood, natural and metallic decors at extra cost. |
| Design | Wide or narrow stripe design |
| Roof construction | Flat roof construction covered with special UV roof foil or green roof module. (Height +12 cm) |
Floor construction
No floor construction, feet are screwed to the substrate. Important is a completely level surface!
Back wall
Plastic-coated wooden back panel (dark brown) and Trespa cladding or doors on request.
Substrate
Solid, level substrate. (e.g. concrete slabs)
Interior
Plastic-coated multilayer wood panels as insertable walls behind the doors or as an extension a shelf insert.
Building permit free
Mostly yes (depending on municipality and installation site)
Lockable
With padlock or combination lock. On request also with triangular, square or cylinder lock.
Delivery
On disposable pallet in parts completely "pre-assembled": Roof and floor complete and doors already mounted on frame.
Structure
Self-assembly or assembly service on site for an additional charge
Dismantling / conversion / relocation
Possible
Warranty
10 years
Delivery time
Standard color 4 - 6 weeks, special colors 6 - 8 weeks, decors and metallic 8 - 9 weeks