Garbage can box made of HPL :: individual and high quality!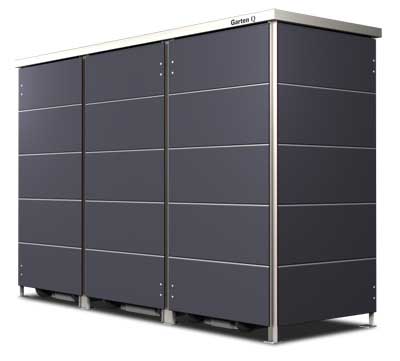 Our garbage can boxes made of HPL are suitable for up to 240 liter garbage cans. In maintenance-free quality and over 100 colors and designs. Modular and flexible, these garbage boxes store garbage cans for private homes and garbage containers of residential complexes in any number and all common sizes. The special feature of the modern design garbage can houses is the possibility to adjust them to your individual needs.
Trash box with integrated parcel box and bicycle shelter
In the Garten[Q]-HPL garbage can house you can integrate a parcel box module or use the area above a garbage can as a parcel deposit for the parcel service. In times of increasing internet orders a great feature that fits perfectly visually in front of your house.
An optional roof extension creates a well-integrated bicycle shelter, also as a closed bicycle box. On free-standing sides of the garbage garbage can house, insertion hatches for garbage bags (e.g. yellow bag) can be placed. - Through further options you get the ideal garbage box solution for your requirements, - in this flexibility only at Garten[Q]!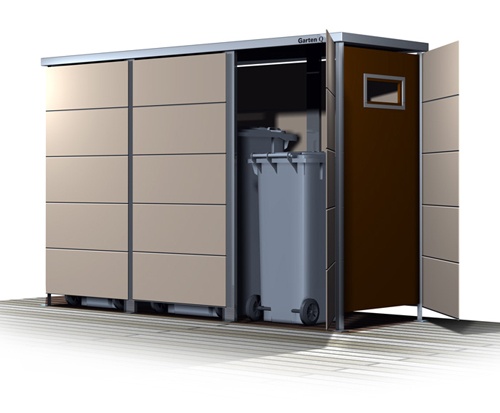 Garbage can house with new design and functionality.
Trash can boxes in stainless steel or wood there are many. However, the Garten[Q]Trash is an exceptional and versatile trash can house. It consists of aluminum frames, which are screwed directly onto your flagstone decking. The doors are made of HPL Trespa. All materials are completely maintenance free. You will never have to paint again.
The patented multi-sided storage system from Garten[Q] also provides this trash can house with incredible added value in terms of storage space and convenience. If you have the space, you can also open the Garten[Q]Trash from the sides. You can also hang trash bags on the sides and conveniently separate trash.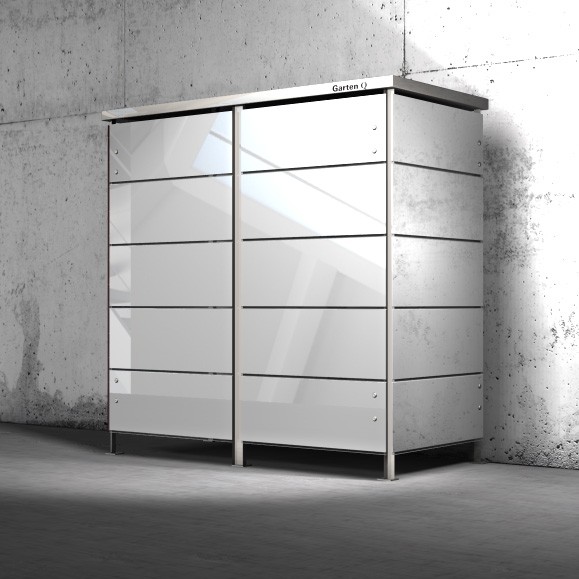 Two trash cans and possibly two trash bags: Trash-2 trash can box
With a width of 1.58 m and a depth of 0.8 m, the Garten[Q]Trash-2 fits into even the smallest front gardens. You can comfortably store up to two 240 liter trash cans. Height: 1.58 m or 1.20 m.
Garbage can house for all needs: Trash-3
You can store three trash cans in the Garten[Q]Trash-3. Size: 2.34 m x 0.80 m x 1.58 m or 1.20 m (W x D x H). In addition, you still have space to use two additional garbage bags in the standard provided throw-in hatches behind the side doors, if required.
Garbage can box for 4 or more tons
To store 4 tons up to 240 liters, combine 2x Trash-2 modules with an intermediate panel. Or use a Trash-4 if you have the space. You can find all possibilities in the Info-PDF.
You can place both trash can boxes in a row or around a corner as you wish. Use the orderable Trespa trims to connect the individual trash boxes without gaps. You will automatically receive a discount if you order more than one module in our store. Configure your trash box solution.
NEW: The "One Module" Trash-1
NEW: Enclosure for 1000 liter trash container Trash-L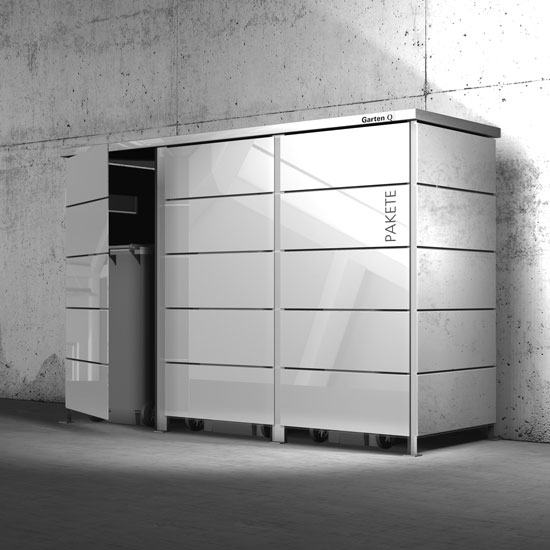 Trash box variants
As standard, the garbage can house has a continuous back wall made of a plastic-coated multi-layer wood panel. This is dark brown, robust and perfect if your garbage box is located against a house wall or is not visible.
Alternatively, you can order a Trespa back panel cladding in the color and design of your garbage can house doors.
Doors on both sides: Another option is the two-sided access option for your trash box. This garbage can house can be opened from the street side and from the garden.
All plans and options can be found in our information sheet on the garbage box Garten[Q]Trash.
NEW: The "One Module" Trash-1
NEW: Enclosure for 1100 liter trash container Trash-L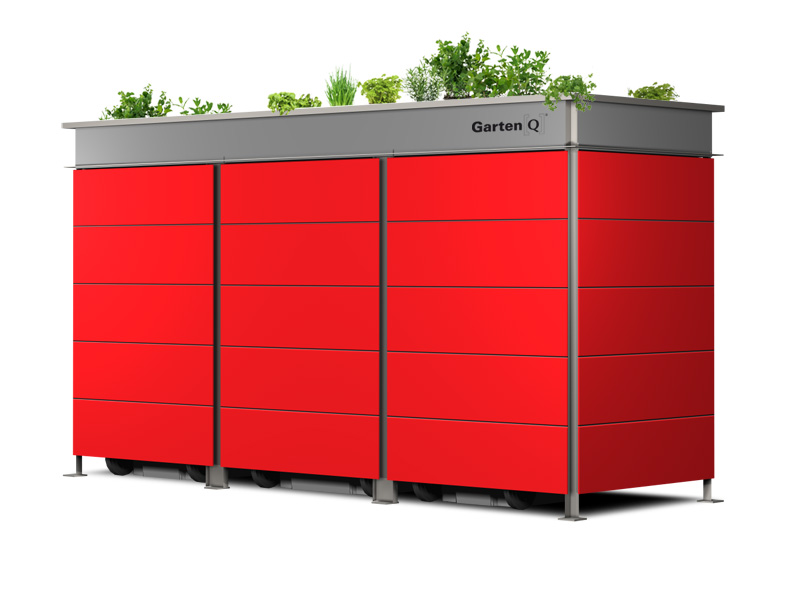 Your trash can box "classic" or in the combinable Garten[Q]-height
Garbage can box Garten[Q]Trash is available in two different heights:
120 cm
than "classic" trash can box height. In this case, tip your garbage cans into a stainless steel chain for filling. Or the usual Garten[Q]-height of
158 cm
. You can open the lids inside the trash box without tipping the garbage cans. No matter what height you choose, you always get garbage cans up to 240 liters comfortably stowed and additionally 2 garbage bags left and right.
The trash can box "Trash" with roof greening module.
If you want to green the roof of your Garten[Q]Trash, we also have a solution for you. With our "Plus models" we put a raised bed on top of your trash box (makes the Trash 12 cm higher, you can use this to plant a herb bed for example). A downpipe drains excess water down through the interior.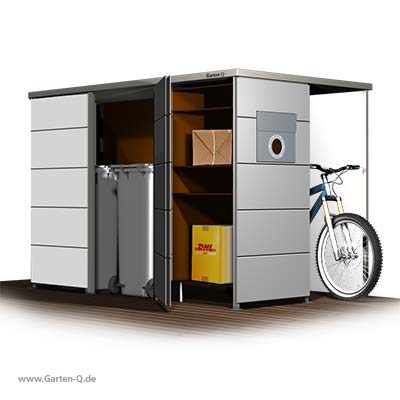 Integrate a parcel box and/or mailboxes into your trash box
Extend your garbage can box with a parcel receiving point in the form of your own parcel box or an integrated parcel shelf. Who wants can also order a fancy mailbox on one of the outer sides. Everything is possible, even entire mailbox systems can be integrated directly into your trash can box "Trash".
For more information, please refer to the info sheet.
NEW :: Practical shelter behind your garbage box
Those who have the space can extend their Garten[Q]Trash with a shelter at the back. The "BackShed" extends the roof by 78 cm or 154 cm to the rear.
Your "BackShed" stores bulky things like garden furniture, gas grill and is a great bike shelter. You can also conveniently store firewood or building materials.
For more information, please refer to the info sheet.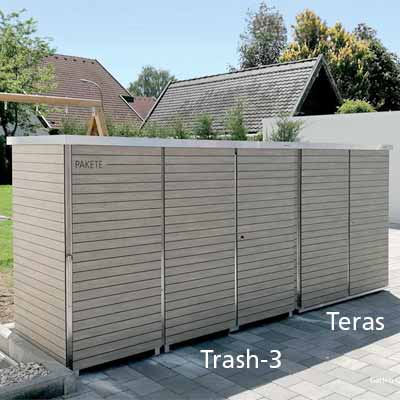 Garbage can house variable combination
Your Trash garbage can box is a modular and highly variable system for storing your trash garbage cans. Using the two- and three-person modules, you can enclose as many trash cans as you like. Intermediate screens provide a clean look between the trash box modules. You can also easily place the garbage boxes "around corners".
Combine your Garten[Q]Trash also with other Garten[Q] models. For example, a Garden[Q]Trash-2 with a Garden[Q]Teras or a Garden[Q]Trash-3 with a "Pure-XL". Everything is possible.
When buying more than one Garten[Q] model you always get 5% discount on everything! Shipping costs are excluded.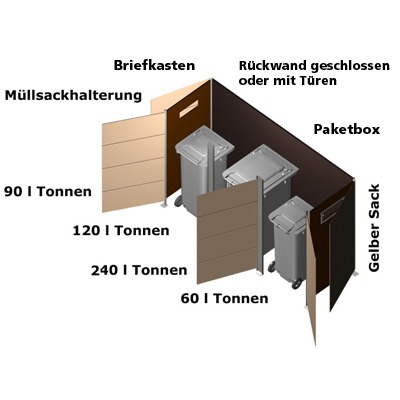 Trash can box modular expandable
Trash cans in boring concrete enclosures or high-maintenance wooden cladding were yesterday! The Garden[Q]Trash garbage can box transforms your garbage cans into a stylish design element and puts a visual highlight in front of any property.
From the garden [Q]Trash there are trash box modules for two or three garbage cans. If you want to store 4 tons, simply combine two 2er-Trash modules together with an intermediate panel. If you have 5 garbage cans, e.g. 240 liters, simply combine one 3-bin and one 2-bin module. By the way, there is a 5% discount on everything if you need more than one module. There are variants with doors on the front and the back. These garbage can boxes are available in two different heights: 120 cm and 158 cm, they always store garbage cans up to 240 liters.
NEW: The "one module" Trash-1
NEW: Enclosure for 1,000 liter trash container Trash-L
Optionally, all Garten[Q]Trash models have doors on the sides, behind which there can be throw-in hatches. Additional trash bags can be clamped into them. Ideal e.g. for a "yellow bag". If you have no space next to your trash box, simply choose fixed sides.
As an additional module there is a parcel box or a parcel storage compartment for your Garten[Q]Trash. Through it you have 24 hours parcel acceptance in front of your house. If you have a suitable space, you can also order the integrated mailbox.
Combine Garten[Q]Trash modules and all other Garten[Q] models according to your needs. For example, you can line up a Garden[Q]Teras-2 with a Garden[Q]Trash or a Garden[Q]Pure-XL "back to back" with a "Trash3".
When buying more than one Garten[Q] model you always get 5% discount on everything! (Except shipping) Create a complete offer in our store!
SET UP VIRTUALLY
Get a first impression!
Why not put a Garten[Q] in your garden on a trial basis? Anyone with an iPhone or iPad is welcome to try it out. Simply scan the QR code and you will see a Garten[Q] standing in front of you through your phone or tablet camera. Just give it a try with the codes above.
Instructions and more colors and 3D trash can boxes are here:
>> Trash-3 for three trash cans
>> Combination for four trash cans
If you are already viewing this page on an iPad or iPhone, you can tap here to visualize a 3D trash.
Android devices are currently not supported, but we are working on it.
GARTEN[Q] TRASH AT A GLANCE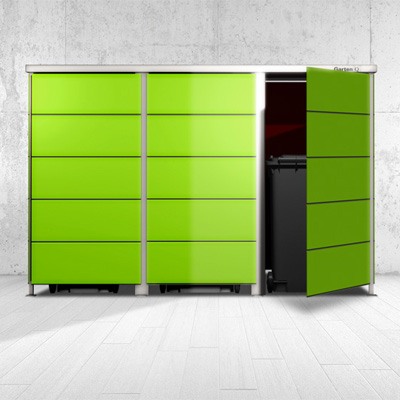 Here are a few special trash box features at a glance:
Suitable for 90 liter, 120 liter and 240 liter* garbage cans
Special sizes for trash containers
Two drop-in hatches with holders for additional garbage bags. (Yellow bag)
Optional roof extension to bicycle shelter
Optional use as a parcel box
Optional integration of letterbox and bell system
Lockable (on request also with three- or four-key lock)
Over 100 colors and decorations
Trash can lids can be conveniently opened inside the trash can box (at height 158)
Two different heights

Maintenance-free (without painting)
All info in detail in the info sheet
NUMBERS, DATA AND FACTS
| | |
| --- | --- |
| Footprint | 5 different module sizes |
| Total height | Selectable between 158 cm and 120 cm |
| Maximum compartment height | approx. 155 cm / approx. 115 cm (depending on model) |
| Doors | Doors made of Trespa Meteon (HPL, thickness 8 mm) or ESG safety glass (8 mm) |
| Features | Maintenance-free, vandalism-proof, lightfast (according to manufacturer's specifications) |
| Colors | 5 standard colors and over 100 other colors and decors as well as glass in white |
| Design | Wide or narrow stripe design |
| Roof construction | Flat roof construction covered with special UV roofing film |
Floor construction
No floor construction, feet are screwed to the substrate. Important is a completely level surface!
Back wall
Plastic-coated back panel (dark brown) and trespa cladding or doors on request.
Substrate
Solid, completely level substrate. (e.g. concrete slabs)
Garbage cans
90 liter garbage cans, 120 liter garbage cans, 240 liter garbage cans; (1.100 liter garbage can in own model Garten[Q]Trash-XXL)
Building permit free
Mostly yes (depending on municipality and installation site)
Lockable
With padlock or combination lock. On request also with triangular, square or cylinder lock.
Empty weight
approx. 225 kg
Delivery
Completely "pre-assembled": Roof and floor complete and doors already mounted on frame ready.
Structure
Self-assembly in 4 - 6 hours or on-site assembly service for an additional charge.
Largest kit part
Back wall depending on model: 150 cm x 150 cm / 110 cm or 230 cm x 159 cm / 110 cm
Dismantling / conversion / relocation
Problem free possible
Combinations
Can be extended as required, can also be positioned "across corners
Warranty
10 years

MATERIALS AND QUALITY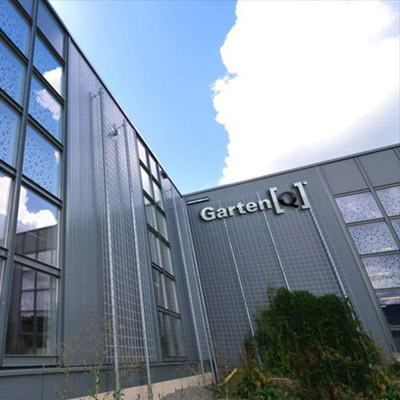 Garbage can house

from Garten[Q] made of high quality materials

Your garden[Q]Trash is made in Bavaria by a special carpentry. It is made exclusively of the highest quality, maintenance-free materials. Built by hand from Trespa (HPL), metal (stainless steel and aluminum) and plastic-coated multi-layer wood panels.

The exterior walls are mostly made of "Trespa Meteon". This is an HPL (high pressure laminate) that is ideal for outdoor use. Please read: >> the Trespa Meteon info brochure

Inside, the Garden[Q]Trash is made of plastic-coated screen-printed panels for the back and behind the narrow sides. These are characterized by their extraordinary robustness. The plates are also well usable for mounting holders and hooks.

With a Garten[Q] you choose an extremely high quality product and get 10 years warranty.
FURTHER INFORMATION & DOWNLOADS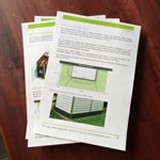 The info sheet
Learn everything about this Garten[Q] model. We have packed all the floor plans, variants and everything you need to know into this PDF. You can save it locally or print it out conveniently.
↵ Download the info PDF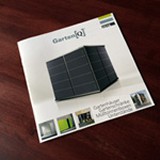 Garten[Q] Catalog
Get an overview of our offer. Garden houses, garden cabinets, shelters, bicycle garages, garbage can boxes.
↵ Garten[Q] Catalog (5MB)
Youtube videos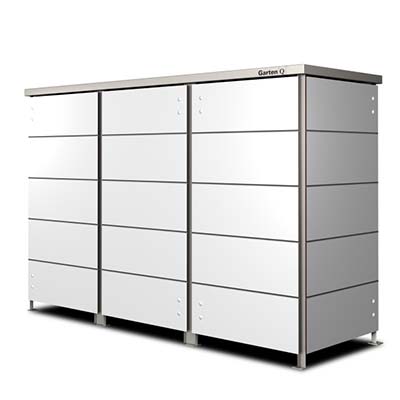 STANDARD COLOR
Pure White A05.0.0
Strip wide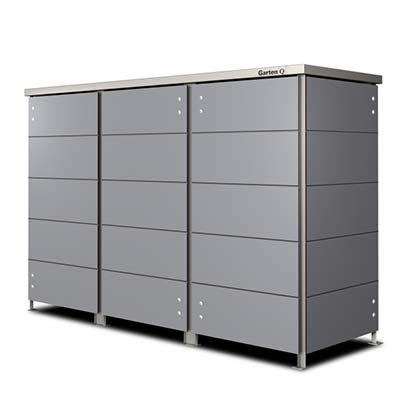 STANDARD COLOR
Mid Grey A21.5.1
Strip wide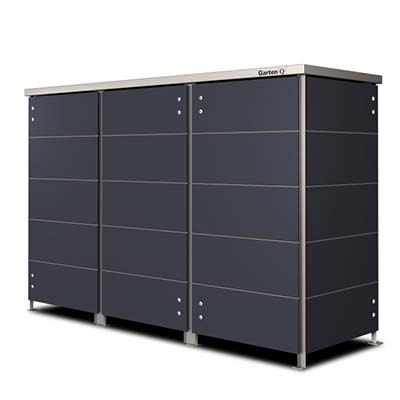 STANDARD COLOR
Anthracite Grey A25.8.1
Strip wide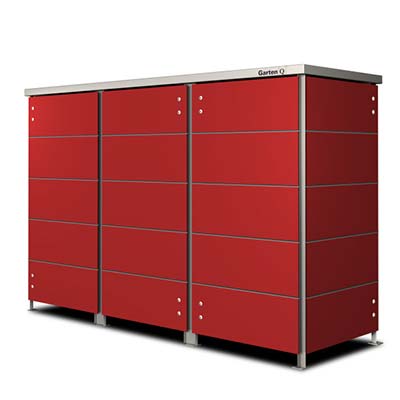 STANDARD COLOR
Carmine Red A12.3.7
Strip wide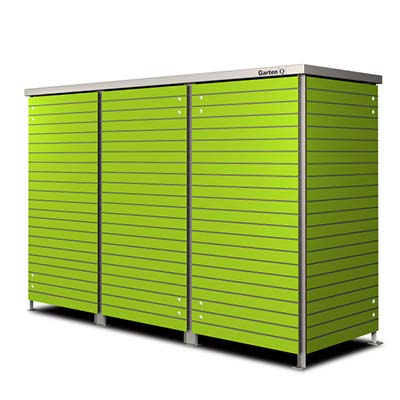 STANDARD COLOR
Lime Green A37.0.8
Stripes narrow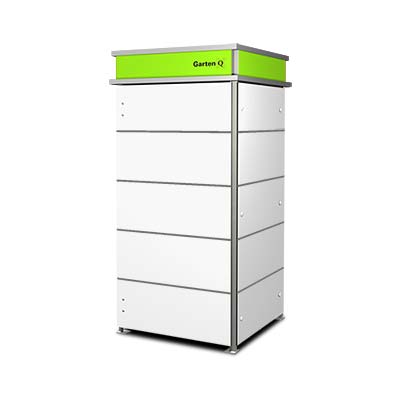 For a garbage can
Trash-1+
80 x 80 x 120 / 158 cm (L x D x H)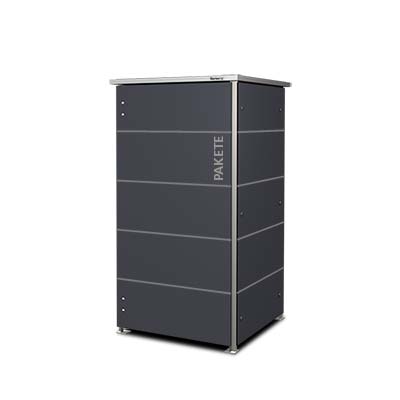 Parcel box
Trash-1 with shelf insert
80 x 80 x 120 / 158 cm (L x D x H)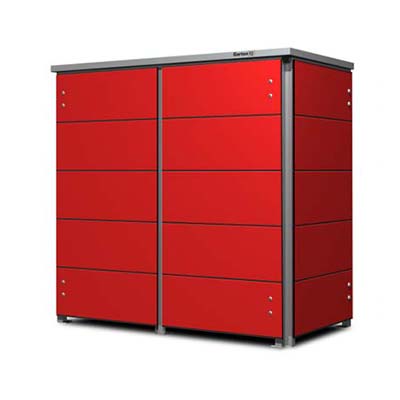 Module for two tons
Trash-2
158 x 80 x 120 / 158 cm (L x D x H)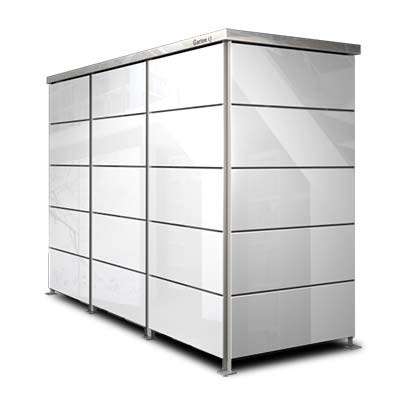 Module for three tons
Trash-3 glass
234 x 80 x 158 cm (L x D x H)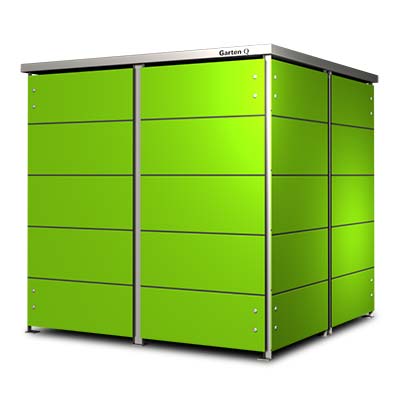 Cube for four tons
Trash-4
158 x 158 x 158 cm (L x D x H)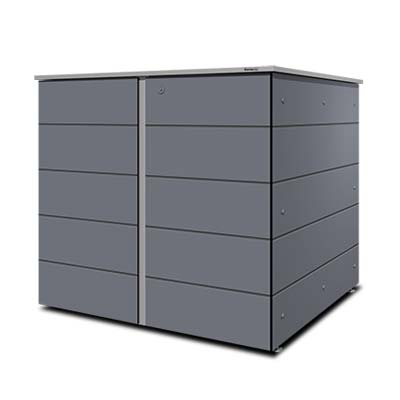 Enclosure for garbage container
Trash-L
158 x 140 x 140 cm (L x D x H)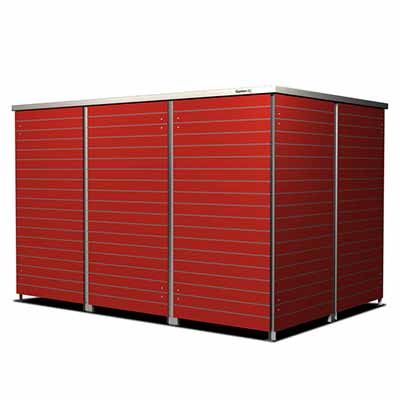 Garbage box for 6 tons
Trash-XL
234 x 158 x 158 cm (L x D x H)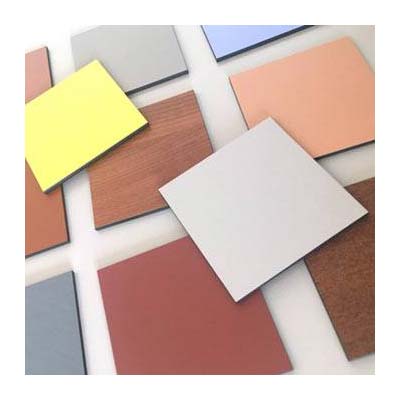 FURTHER COLORS
Color palette
Are you interested in a trash can box? Call us!
Prices can be found in our store. Save your configuration in the shopping cart and create a non-binding offer. >> Prices
Our trash can boxes are not only high quality but also modern in design. If you are interested, please contact us by phone at 089/244 1841-0 or by mail at info@garten-q.de. We are looking forward to meeting you!