The 3 roof variants of the Garten[Q] models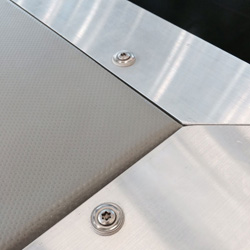 You can choose between three roof module variants. The flat roof consists of a plastic-coated multilayer wood panel. It is covered with a special thick roof foil. This foil is extremely durable, UV-resistant and silent when it rains. So you can put your Garten[Q] also directly in front of your bedroom. The roof foil is bordered by aluminum drip edges. So the water runs off over all sides or evaporates. The color of the foil is a light gray.
To transform your roof yourself, there is the Garten[Q] SmartDach. It has a filling height of 2.5 cm and is suitable for filling with decorative gravel. For further details, please refer to the Info PDF of the corresponding Garten[Q] model.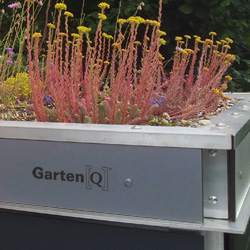 If you want to give back to your garden the space lost through footprint or plan a snail-free herb bed, you should opt for a green roof module. The green roof consists of an approx. 9 cm deep trough with a ball screen and water drainage through the interior. You have all the options of green roof or just put flower pots in the tub.
Those who choose a green roof module can also select an additional standard color for the Trespa trim.